Wheel Alignments
at Jaguar Houston North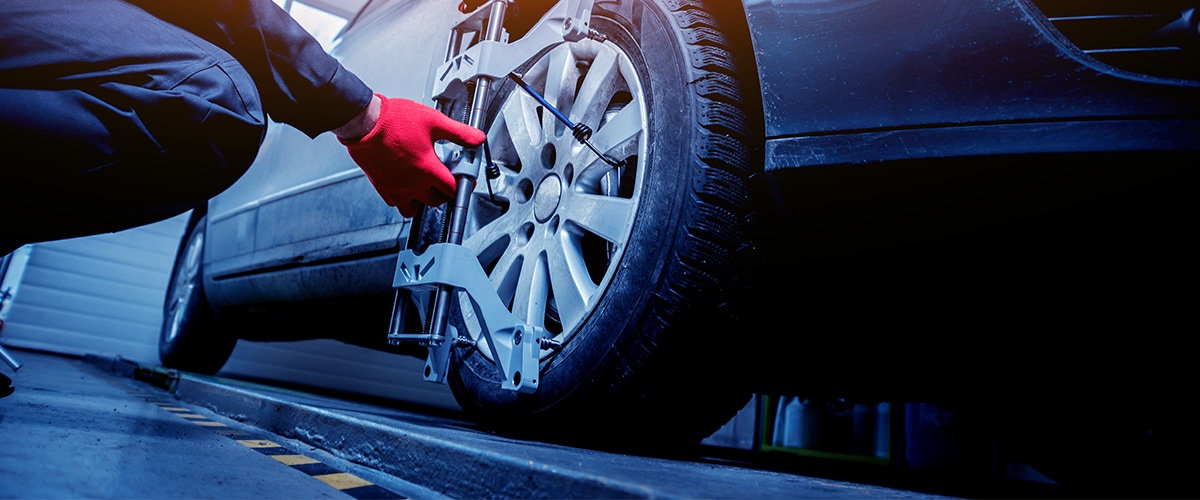 If your Jaguar is out of alignment, our service center will get it driving straight again!
When you take your Jaguar out on a weekend drive, you want it to perform at 100%, and one of the ways your luxury model can let you down is when it's out of alignment. Here are the signs that your Jaguar sedan, SUV, or roadster is in need of alignment service:
When you're driving, especially on a straightaway, you notice your vehicle is pulling either to the left or the right
Your beautiful, leather-wrapped steering wheel vibrates when you drive. It may also be off-center
You notice uneven tire wear when you inspect your wheels
If you have dealt with any of these things, it's time to schedule an appointment and come into our service center for an alignment inspection and possible repair. Unlike a local mechanic who specializes in a range of luxury models and is a jack of all trades, our highly-trained Jaguar technicians are masters of one brand and will be able to get your luxury model back into alignment with their in-depth knowledge of your Jaguar's system.
When do you need to get an alignment for your Jaguar?
Now that you know the signs of potential incorrect alignment, you're probably wondering if you need to get components reviewed on a regular basis, like you would with an oil change or brake inspection. The good news is that you really don't need to get your alignment checked unless you're having the issues above or you happened to hit a big pothole and want to be sure everything is okay. At most, you can have your alignment checked once a year or whenever you buy a new set of tires so they begin to wear evenly right off the bat.
For more information on the alignment service we can provide for your luxurious Jaguar model, allowing it to continue to perform at the high-levels you expect, contact our service center or schedule an appointment.
Hours
Monday

7:00AM-7:00PM

Tuesday

7:00AM-7:00PM

Wednesday

7:00AM-7:00PM

Thursday

7:00AM-7:00PM

Friday

7:00AM-7:00PM

Saturday

8:00AM-2:00PM

Sunday

Closed